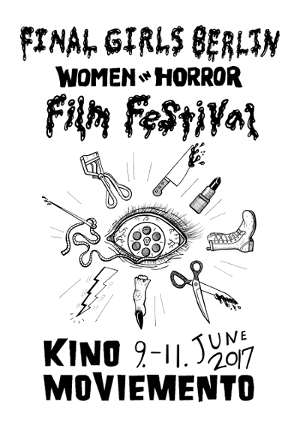 The Festival
Final Girls Berlin Film Festival showcases horror cinema that's directed, written, or produced by women. The festival is in its second incarnation, and will take place between June 9th and 11th, 2017, in Berlin's Kino Moviemento. We are committed to creating space for female voices and visions, whether monstrous or heroic, in the horror genre. We are lashing against the tokenization of women as objects and beautified victims, and are working towards the primacy of women as subjects in horror.
** Our definition of women includes anyone with female experience --past or present-- and is trans-inclusive. Anyone who feels addressed by the term is welcome to submit their films to the festival. **
Das Final Girls Berlin Film Festival präsentiert Horror-Kino, in welchem Frauen Regie geführt haben, und Filme, die von Frauen geschrieben oder produziert wurden. Das Festival wird zum zweiten Mal zwischen 9. und 11. Juni 2017 im Berliner Kino Moviemento stattfinden. Wir wollen einen Raum für weibliche Stimmen und Perspektiven im Horror-Genre schaffen, ganz gleich ob monströs oder heroisch. Wir stellen uns gegen die Tokenisierung von Frauen als Objekten oder aufgehübschten Opfern und wollen Frauen als Subjekte im Horror-Genre präsentieren.
The Team
Elinor Lewy: A film buff since the age of nine, Eli is always on the lookout for singular, transgressive films. She is a freelance journalist and translator and is currently working on her feature-length debut, a documentary called "The Everyday Schizophrenic."
Lara Mandelbrot: New media artist Lara watched her first horror movie, Poltergeist, at the age of six and she hasn't slept ever since. Her sleepless nights are spent considering what small electronic devices she can stick under her skin next. She enjoys flesh-eating creatures, as well as various types of body horror. She organises monthly b-movie screenings and irregular horror book club meetups.
Sara Neidorf: When she's not playing or teaching the drums, Sara is gorging on horror cinema. If a film involves satanic cults, witches, maternity-related body horror, Joan Crawford, Ruth Gordon, or Shelley DuVall, Sara has probably seen it. She also co-curates Berlin's monthly Queer Film Klub screenings.